---
IEEE Signal Processing Society

1999 International Workshop on
Multimedia Signal Processing

September 13 - 15, 1999
Copenhagen, Denmark
---
Venue
The workshop is held at the
Marienlyst Hotel
Ndr. Strandvej 2
DK-3000 Helsingør
Denmark
Phone: +45 49.21.40.00
Fax: +45 49.21.49.00
Email: gb( a )marienlyst.dk
Click here for reservation.
The hotel is located in Helsingør, a small town north of Copenhagen as shown on the map below.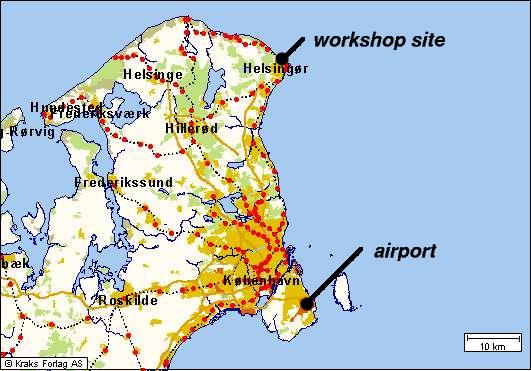 Copenhagen by Air:
Most of the international flights to and from Denmark use Copenhagen Airport (Kastrup). About 40 airlines have regular services to Copenhagen and there are several daily connections to/from all other major airports.
Copenhagen Airport (Kastrup) is located 12 km southeast of the city center. Trains between Copenhagen Airport and Central Railway Station takes 12 minutes.
From Copenhagen Airport to Helsingør by Train:
There are direct train connections from Copenhagen Airport to Helsingør, i.e., some trains to the Central Railway Station continue to Helsingør (terminus). See the train map below. The trip takes 70 minutes, and the price is 38.50 DKK (5.5 USD). The departure interval is 20 minutes (12, 32, 52) from 6.32 AM to 0.12 AM. Be sure that the train sign shows Helsingør.
In the Airport, the train tickets are sold in Terminal 3, and the trains leave from the basement. See the airport map below.
Taxi from Helsingør railway station to Hotel Marienlyst cost approximately 50 DKK (7 USD).
Further information about how to get around in Copenhagen by bus or train can be obtained here, i.e., tickets, fares, zones, addresses, etc.
Copenhagen Airport: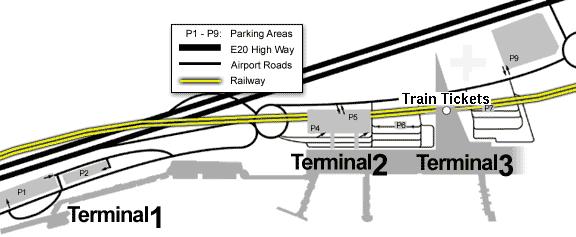 Train Map: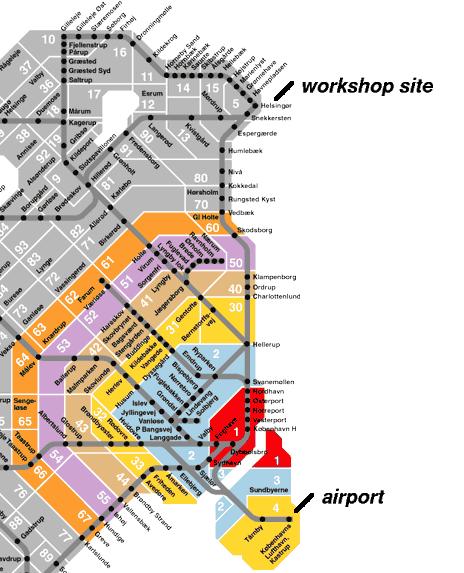 Copenhagen NOW is an on-line guide to experiences and entertainment in Copenhagen. Accommodation, restaurants, entertainment, museums, tourist information? You can find it here.
Another guide to Copenhagen is Copenhagen This Week.
Comments to the function or malfunction of this page should go to pskh( a )imm.dtu.dk
All other requests regarding the MMSP'99 should go to mmsp99( a )imm.dtu.dk
Last modified August 2, 1999 by Peter S. K. Hansen